Don't Forget to Renew Your DIC Membership for 2021!
WELCOME TO THE DIVISION OF INTERNATIONAL CRIMINOLOGY!
The Division of International Criminology (DIC) is committed to fostering a forum of personal interaction and exchange of ideas among people involved in international criminology. We welcome educators, researchers, practitioners and students interested the field of international criminology to join our membership base through the American Society of Criminology.
NEW DIVISION JOURNAL
INTERNATIONAL CRIMINOLOGY
Please visit the "journal" menu tab for more information.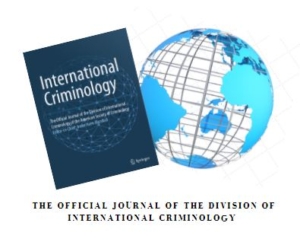 The journal's mission is to publish innovative and thought-provoking theoretical, conceptual, empirical and methodological contributions that will enhance and develop the field of international, transnational, comparative and global criminology and criminal justice.
The journal welcomes scientific articles, commentaries, and book reviews.
Welcoming papers on a wide range and variety of topics and approaches
Multi-disciplinary, drawing from disciplines such as criminology, sociology, political science, anthropology, law and society, and psychology.
Targeting a broad international, geographically diverse audience
Editorial leadership team brings many years of research and publishing expertise
Affiliated with the Division of International Criminology of the American Society of Criminology